Entrenched
A downloadable game for Windows
This is a prototype made specifically for the indie game making contest 2018 in one month by a one person team.

Prologue
The second World War. Violence, conflict and despair roamed across Europe, colonial Afrika and to the East.

A paralysing struggle of forces and ideologies greater than any one man held the world in it's iron grip. Nothing but bloodshed of boys and men pitted against one another by the forces drinking brandy and smoking cigars behind closed curtains.
Destruction, extermination and suppression reigned with new found efficiency through technological advances. A war unlike any other that had come before. A War, resulting in famine and pestilence, achieving through it the final horseman of Death.

And amidst this madness… This annihilation of humans and even humanity itself… People simply tried to survive. To protect themselves and those they loved. To find a way to live. And then… a way to live with themselves.
Summary
Why did so many support and deal with the Nazi-party; occupants from foreign soil? And why did so many young men risk their live to fight this oppression?
Experience the harsh conditions of war. Survive with encreasingly scarcer resources until at long last the siege is lifted. Pick a side, or have it be picked for you. And above all else, no matter what choices you make, remember who you are doing it for.
Keep her alive. At all costs.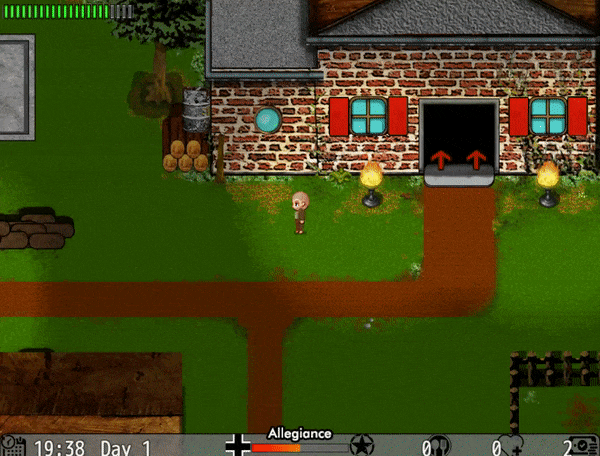 Why is this game a contender?
The Indie Game Making contest 2018 is looking for a prototype that can be turned in to a fully fledged indie game.
Entrenched, in its current form, offers the perfect foundation to build on.
Nearly all graphical assets are custom made, as well as all music and system sound effects.

The historical setting of this game helps the player's immersion and cohesiveness of the world, while also providing plenty of new creative opportunities for future builds.
Most importantly, the systems currently in place are very well suited for expansion and adding more content:

The combination of free exploring and random roadside events during travelling offers lots of openings for new content and gameplay events.
Allegiance is another important resource to build upon. The player's decisions dictate the outcome of the game as well as the methods available for getting there.
In closing, Entrenched is an obvious game to back when looking at potential.

Install instructions
1. Download the Entrenched.rar file and extract it to any folder.

2. Run the game.exe file and you're ready to go!